It's road trip time again, this week with a June 10th visit to Malmö's beautiful Limhamnsfältet for a doubleheader against the Pilots. Even though the Sharks are currently riding an eight-game winning streak against the Pilots and fresh off a miracle sweep of the Karlskoga Bats, this weekend's games could go either way.
Looking back over the past six years, the Pilots have the edge, going 20–9 against the Sharks. Although the Pilots had the early advantage, at one point winning 19 straight, the balance of power began to shift when Coleman Lucas and Jason Norderum took the reins in 2015, and led the Sharks to an 11-1 victory, vividly illustrating the concept of winning being better than losing.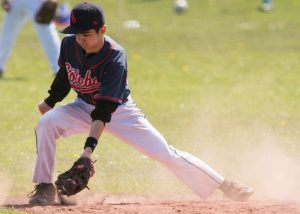 Swervin Shervin, flashing the leather in Malmö
For fans wanting to see the team on the road, this reporter can strongly recommend making the trip to Malmö. It's an easy drive, the burgers are tasty, the people are friendly, sunny skies are forecast and a great sand beach is just a minute away, something the Sharks always take advantage of after playing in Malmö.
For directions, click here: Limhamnsfältet
There's plenty of free parking between the field and the beach.