From Jose Munoz being named player of the month for the Swedish regional league to the club's annual home run derby, a lot has happened this week.
Jose Munoz: player of the month
Jose Munoz is one of the very best players in Swedish baseball. Week after week, the Sharks' Nicaraguan shortstop is out there providing solid hitting and highlight-reel fielding for the team. Congratulations Jose on winning the player of the month award for May!
Johan Weidolf: off to a blazing start
This might be Johan Weidolf's 29th season, but he's showing no signs of slowing down, at least when it comes to hitting a round ball with a round bat. Four games into the season and Johan is 16 for 20, with a batting average of .800. Asked what is behind his hot start, Johan mentions two things; he is no longer playing with back pain and he has changed his approach to hitting: "I'm much more relaxed, not trying to do too much with the pitch I am given."
Home run derby: swinging for the fences
We have three new home run champs this year with Gillan André, Tina Atkins and Molkhlad "Momo" al-Ghanimi taking top honors in their respective categories. Momo has been eyeing that short and high home run fence (Gothenburg's version of Boston's Green Monster) at Shark Park since he first picked up a bat for the Sharks. Wednesday, the former Iraqi national team star pitcher finally hit one out,  winning the men's baseball category in spectacular fashion.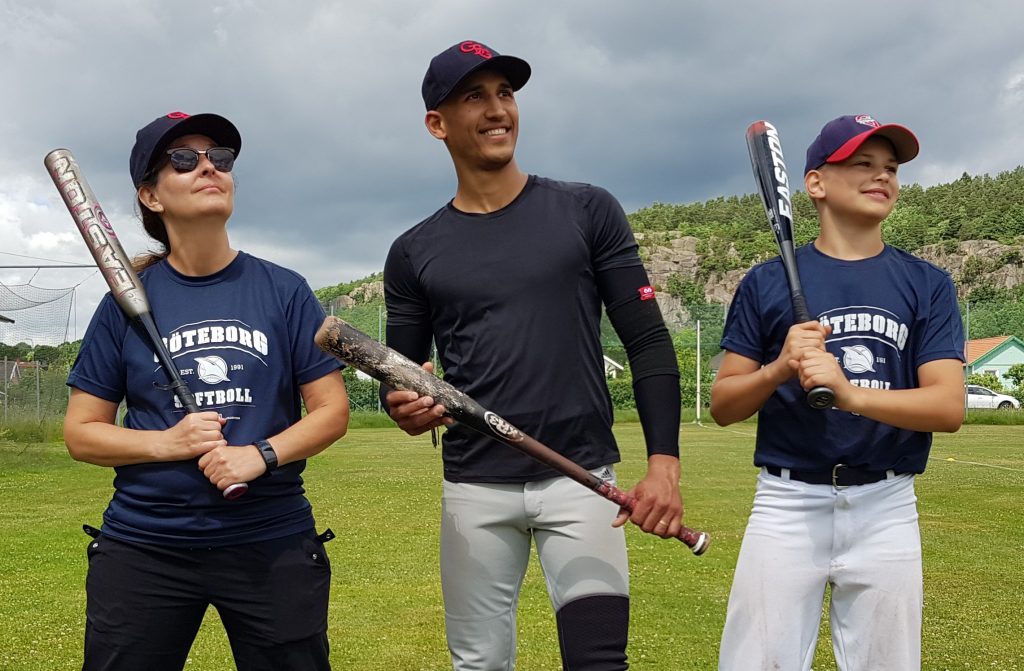 Tina, Momo and Gillan, this year's home run derby winners
Robbed in Karlskoga
The Sharks were robbed of a split against a strong Karlskoga team last Sunday, reinforced with imports from the US and borrowed players from Sölvesborg. They were obviously taking no chances after being swept the last time they faced the Sharks.