Two losses might seem like history repeationg itself.
Compared to last season, it wasn´t.
"We played pretty solid baseball," Coleman Lukas says.
The Stockholm Monarchs (7-0) and Göteborg Hajarna (2-6) came in to Saturdays double header leading the league in runs scored. Anyone looking for a high scoring affair was disappointed by the first game. Starting pitchers Jason Norderum and Jakob Claesson battled each other through six innings trading zeroes until the Sharks took the lead in the bottom of the third. That would, however, be the lone run the Sharks got in this one.
The Monarchs came back in the top of the fourth to tie the game up and taking the lead in the fifth. Norderum, as always, gave the Sharks solid pitching. He allowed two runs (one earned) and struck out nine in his six innings of work. Claesson picked up his fourth win of the season giving up one unearned run and striking out five, lowering his ERA to 0.38. The Sharks threatened late in the game but hit in to a double play with the bases loaded in the bottom of the seventh inning. Stockholm added to their lead and took game one 5-1.
The second game proved to be more of that offensive surge that both teams are known for. Hiba Nabi started the game for Göteborg and battled through seven innings for the Sharks and kept the home team within fighting distance. The Sharks became the first team to score off of the Monarchs game two starter, Dylan Driscoll, and swung the bats well. Unfortunately for Hajarna, Stockholm swung theirs even better.
"We played pretty solid baseball," Coleman Lukas said after the game.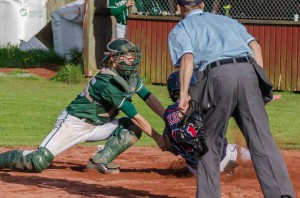 The Sharks battled, manufacturing runs all through this one. June Kono, playing his first game in the Hajarna uniform, looked safe when the home team rallied in the eight inning but was called out at the plate. Stockholm eventually went on to win game two 9-5.
"The season is long, right now it´s not about the results but the process. We´re playing better baseball than a month ago," Coleman Lukas says.